'Fox And Friends' Has The Most Predictable Reaction To Story On Trump Losing Money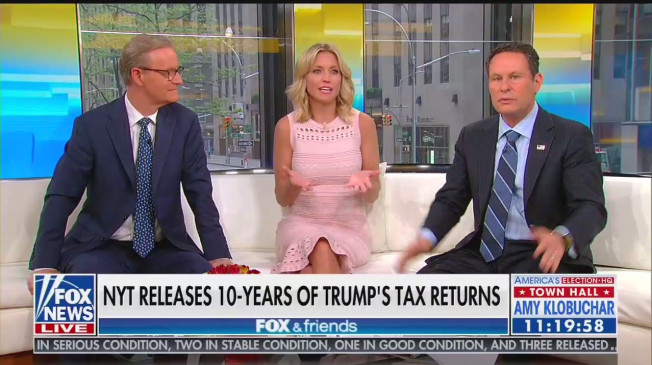 The hosts of "Fox and Friends" on Wednesday weighed in on a blockbuster New York Times article on Trump's old tax returns — reporting that showed Trump lost $1 billion over the course of a decade.
The reaction on the Fox couch? Well, it actually makes Trump look good.
"They realize he's a billionaire,"Ainsley Earhardt said of voters' possible reaction to the story. "He was campaigning on the trail with his plane behind him that's as big as a Delta jet, with his name on it. We can't even fathom that kind of money. So I'm sure — if you have that kind of money you look at tax laws. You buy things to take a loss so that you make more the next year. But that's not how most of us think."
She added: "If anything, you read this and you're like, wow, it's pretty impressive all the things he has done in his life. It's beyond what most of could ever achieve."
Watch:
Fox and Friends weighs in on NYT's Trump tax reporting: "It's pretty impressive, all the things that he's done in his life" pic.twitter.com/jLTnGldLXK

— TPM Livewire (@TPMLiveWire) May 8, 2019