Virulently Anti-Semitic Graffiti Found At An Oklahoma Democratic County HQ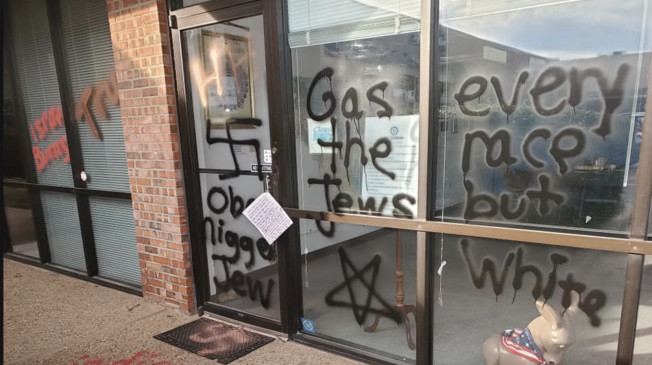 Photos shared by local councilwoman Kate Bierman showed spray-painted swastikas and messages reading "gas the Jews," "no Chink allowed," "hang nigger kids," and "Trump 2020." Bierman also shared photos of volunteers working to clean up the graffiti, which was apparently painted overnight.
Norman Police Department Public Information Officer Sarah Jensen told TPM that the investigation is "still very much active," with officers working "to determine any leads or any information from witnesses or surveillance video."
Norman is a city of some 110,000 people located 20 miles south of Oklahoma City. Last week, swastikas, the white supremacist numerical shorthand "1488," and other anti-Semitic graffiti were found at the state Democratic Party headquarters in the capital, as well as at a Chickasaw Nation office.
Jensen said that Norman police were working with the Oklahoma City Police Department to determine if the incidents were connected.
"We do believe both incidents are very similar," Jensen said. "We haven't made a definite confirmation at this point that they're connected."