Opinions, Context & Ideas from the TPM Editors

TPM

Editor's Blog
Where Things Stand: Will The Progressive Pact Fray?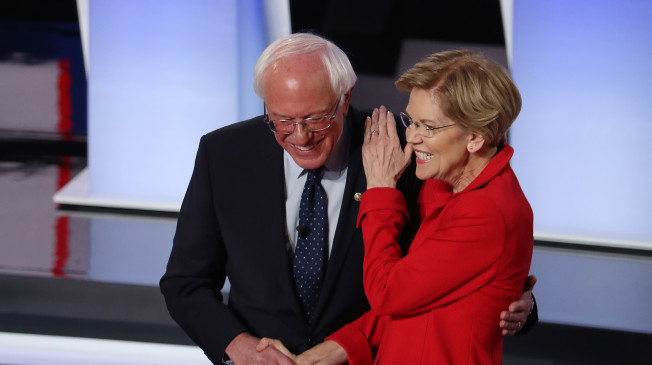 What The Investigations Team Is Watching
Tierney Sneed will stake out the House Democratic caucus meeting on Tuesday morning, tracking any announcements on impeachment next steps, including when we can expect impeachment managers to be named. According to initial reports out of the meeting, the House speaker won't name the managers today. Tierney will also be on top of Senate Majority Leader Mitch McConnell (R-KY) impending announcement of a rules package for a Senate trial.
Josh Kovensky is deconstructing a new New York Times report that alleges the Russian hacked the Burisma Ukrainian gas company.
What The Breaking News Team Is Watching
Warren confirmed on Monday night that she and progressive rival Sanders had disagreed on whether a female candidate could win the presidency in 2020."I thought a woman could win; he disagreed," she said in a statement. The two longtime congressional allies have been at odds the past two days after a Sanders campaign script leaked, guiding volunteers to point out Warren's supporters were more elite than Sanders' supporters are. Warren said the script was meant to "trash" her. The two senators have had an ongoing pact to avoid personally targeting one another throughout the Democratic primaries. We'll continue monitoring any additional fallout ahead of the debate this evening.
Bonus
TPM cafe has an exclusive excerpt this morning from "The Fixers," a new book by the Wall Street Journal's Joe Palazzolo and Michael Rothfeld outlining never-before-known details about what led to the raid of Michael Cohen's hotel, apartment and office in the spring of 2018.
Today's Rundown
2:45 p.m. ET: Trump will received his intelligence briefing in the Oval Office
4:40 p.m. ET: Trump will leave the White House to head to Milwaukee for a 7:00 p.m. CST rally there. He'll arrive back at the White House around midnight
Yesterday's Most Read Story
Trump Sends Cryptic Messages To Iran In Unhinged Early Morning Tweet Screed — Nicole Lafond
What We Are Reading
When A Whisper Network Fails — Jessie Lochrie
Jitters At MSNBC As Brass Eyes Moving Chuck Todd And Talks To Shep Smith — Maxwell Tani, Lloyd Grove and Lachlan Cartwright