Opinions, Context & Ideas from the TPM Editors

TPM

Editor's Blog
Where Things Stand: Republicans Are Sweating Over Swelling Bern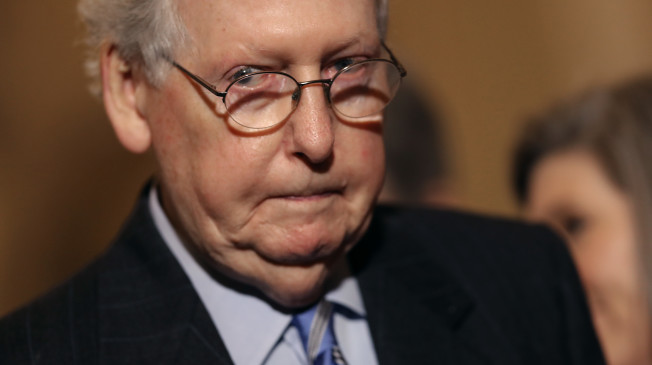 Republicans and their Fox News allies have spent the last several months — essentially since the rise of Democratic socialists like Rep. Alexandria Ocasio-Cortez (D-NY) — equating the Democratic Party to socialist regimes like the government of Venezuela. The effort has been seemingly coordinated and strategic. Stoking fear of socialism among the Republican base, especially those loyal to President Trump, would seem like a surefire way to ensure a Trump reelection if someone like Sanders or even Sen. Elizabeth Warren (D-MA) becomes the nominee.
But Republican leadership might not be as confident in that belief as they once were. While speaking to reporters McConnell hearkened back to the Reagan-era, when Democrats pushed for the Hollywood actor to become the nominee "because they thought he'd be the easiest to beat."
"I think Republicans speculating about which Democratic candidate for president would be the easiest to beat may be a bit foolish," he said.
Whether this is a concern shared party-wide or just the musings of the infamously tight-lipped majority leader is hard to say. But we'll keep an eye on this shift in tone. Here's more on that an other stories we're following.
What The Investigations Team Is Watching
Josh Kovensky is continuing on the Richard Grenell beat this morning, covering Senate Democrats' efforts to get the Justice Department to look into the acting director of national intelligence's consulting work, which Josh has written about extensively in the last few days.
What The Breaking News Team Is Watching
After last night's final debate before the South Carolina primaries, candidates are making their last few campaign stops in the state to garner support — including former Vice President Joe Biden who held a flashy, and at times emotional, press conference this morning, alongside Rep. Jim Clyburn (D-SC) who offered his official endorsement. Biden is widely expected to sweep the state on Saturday, primarily due to his popularity among black voters. We'll keep an eye on how other candidates are preparing for the final primary before Super Tuesday.
Trump insisted last night that his administration's doing a "GREAT" job with the coronavirus, another attempt to downplay the deadly disease as the CDC warns that its spread is inevitable and that "disruption to everyday life may be severe." Trump is expected to hold a press conference on the spread of the virus and the U.S.'s response to it later today, so we'll keep tabs on that.
Today's Rundown
6:30 a.m. ET: Trump arrived back in the U.S. and returned to the White House at 6:50 a.m. ET. 
Yesterday's Most Read Story
LIVEBLOG: South Carolina Democratic Debate — TPM Staff
What We Are Reading
I Was A Juror In The Roger Stone Trial. Attacking Our Foreperson Undermines Our Service. — Seth Cousins
The World's Oldest Man Died In Japan At 112. He Credited His Long Life To Smiling. — Kim Bellware
NYPD Video Warning About Leaks To The Media Is Leaked To The Media — Graham Rayman and Thomas Tracy