Opinions, Context & Ideas from the TPM Editors

TPM

Editor's Blog
Where Things Stand: Trump Is Just Screaming The Quiet Part Now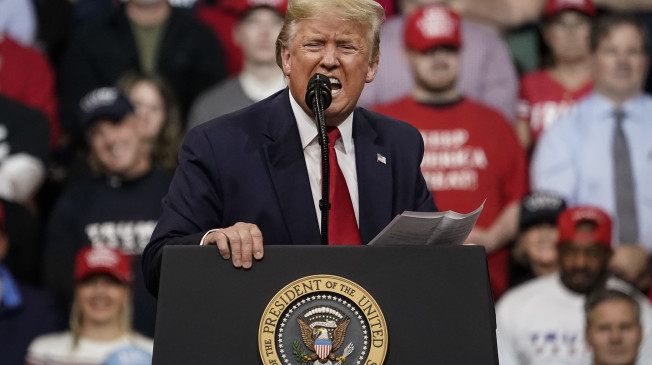 But in the past 24 hours, Trump has been fully screaming the quiet part out loud. On Thursday, Trump openly admitted that he did, in fact, send his personal attorney to do his dirty work in Ukraine after previously denying that he had any hand in Rudy Giuliani's pressure scheme.
On Friday, he tweeted out Attorney General Bill Barr's recent remarks to ABC News, in which he denied Trump had ever directed him to do anything in a criminal case. (In that same interview, Barr also admitted that Trump's tweets make it "impossible" for him to do his job, but Trump seemingly overlooked that part of the interview.) Trump followed up the quote by clarifying that it is his "legal right" to interfere if he chooses to do so.
Trump has a habit of publicly proclaiming his wrongdoing, seemingly, as many-a-pundits speculate, to normalize bad behavior. It appears that trend will continue as he retaliates against those who wronged him with impeachment and sends the Roger Stone case into a spiraling mess.
Here's more on that and other stories we're following:
What The Investigations Team Is Watching
Matt Shuham is looking into a report from the Washington Post that suggests Trump is interested in using the results of John Durham's "investigate the investigators" probe as 2020 campaign fodder.
What The Breaking News Team Is Watching
Now Senate Majority Leader Mitch McConnell is mildly urging Trump to cool it on the tweets. The pushback comes just after Barr also suggested that Trump's tweets make it "impossible" for him to do his job. We'll continue monitoring Republican pushback against the President's latest Twitter tears.
Today's Rundown
2:30 p.m. ET: Trump will address the National Border Patrol Council
7:00 p.m. ET: Trump and the first lady will arrive in Mar-a-Lago for the weekend
Yesterday's Most Read Story
Trump Escalates Crisis With Attack On Roger Stone Jury Foreman — Josh Kovensky
What We Are Reading
Trump's Rhetoric Has Changed The Way Hundreds of Kids Are Bullied In Classrooms — Hannah Natanson, John Woodrow Cox and Perry Stein
Two Couples Shared What It Was Like Falling In Love At A Migrant Camp At The US-Mexico Border — Adolfo Flores