Opinions, Context & Ideas from the TPM Editors

TPM

Editor's Blog
Where Things Stand: Warnings From The Outside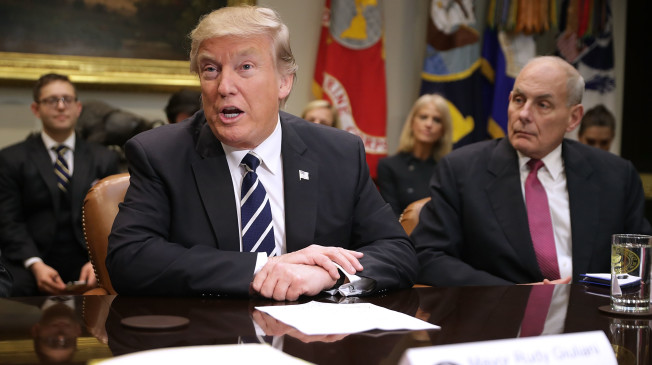 While it was the first time that Yovanovitch has made a public appearance since she testified about Rudy Giuliani's efforts to get her booted from her post in Kyiv, Kelly's been out of the Trump administration for some time now and has been quietly jabbing at his former boss in recent weeks. It might be too little, too late for the ex chief of staff, but his ding on Wednesday made it abundantly clear that he believes the President's conduct surrounding impeachment was "illegal."
Yovanovitch issued a warning against the lack of "moral clarity" within the leadership of the State Department, while Kelly, speaking at an event at Drew University, claimed President Trump's phone call with the Ukrainian president included an "illegal order."
The outside criticism will likely fall on deaf ears as Trump is waist deep in the retribution phase of his post-acquittal victory lap and Trump ended his employment of both of the officials on dicey terms. But Trump allies' respect for Kelly has not faltered yet post-West Wing. We'll keep an eye on how this criticism impacts the increasingly agitated Trump.
Here's more on that and other stories we're following:
What The Investigations Team Is Watching
Josh Kovensky is covering Trump's attacks on jurors in the case of his former campaign advisor, Roger Stone. The President's tweets are a new high water mark in his interference in the case, which has escalated dramatically over the last week.
Matt Shuham is writing about Senate Judiciary Democrats' letter to Sen. Lindsey Graham (R-SC) asking for an investigation into the Justice Department's decision to abruptly reverse its sentencing recommendation for Stone.
What The Breaking News Team Is Watching
The chronically vulnerable West Virginia Democrat Sen. Joe Manchin floated that he might consider endorsing President Trump, suggesting the President could be a "uniter."  We'll continue monitoring this story.
Today's Rundown
3:00 p.m. ET: Trump will meet with New York Gov. Andrew Cuomo in the Oval Office.
Yesterday's Most Read Story
Lisa Page Warns Four Prosecutors Of 'Agony You Are About To Endure' After Roger Stone Fallout — Cristina Cabrera
What We Are Reading
Hundreds Of Billions Of Locusts — Fueled By Conflict And Climate Change — Are Swarming East Africa — Max Bearak
Infinite Jerk — Laura Marsh
How To Spot Bias In Randomized Clinical Trials — Chloe Reichel