Opinions, Context & Ideas from the TPM Editors

TPM

Editor's Blog
Where Things Stand: Giuliani's Direct Line To The DOJ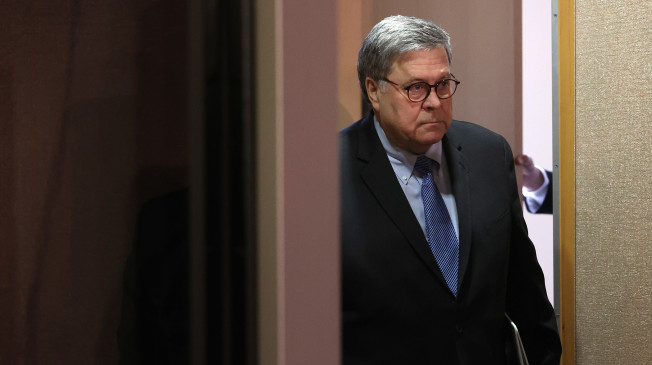 Graham claimed that Trump attorney Rudy Giuliani, who's been the face of the Ukraine pressure scheme for months, has a direct line to the attorney general and plans to dump any of his latest allegations about the former vice president into the lap of the top law enforcement officer in the government. The shadow dealings that Trump got impeached for will likely continue if this "process" Graham speaks of is a legitimate arrangement. Giuliani has no official government role but is reportedly funneling "information coming out of the Ukraine" to the Justice Department, according to Graham.
Responding to reports of the arrangement, Barr didn't deny that it existed — acknowledging the DOJ has an "open door" to all who seek to share information — but was less than enthusiastic about the prospect of sifting through possible dirt coming from Ukraine: "There are a lot of agendas in the Ukraine, there are a lot of cross-currents, and we can't take anything we receive from the Ukraine at face value," he said.
But news of this arrangement is just the latest revelation in Trump's post-impeachment retaliatory tear. He's fired two of the top impeachment witnesses in the House's inquiry and has allowed the Treasury Department to turn over sensitive information about Hunter Biden to Graham's Senate committee. This back channel, while concerning, is hardly unexpected from the President who was bound to seek revenge for the impeachment proceedings he's convinced were a witch hunt.
Here's more on that and other stories we're following.
What The Investigations Team Is Watching
Tierney Sneed is digging into the latest filing in Michael Flynn's case. Over the weekend, the government requested, among other things, a delay in the former national security adviser's sentencing.
Josh Kovensky is looking into Graham's claims of the DOJ "process" for Giuliani to send allegations about the Biden family directly to Barr.
What The Breaking News Team Is Watching
It appears Sen. Bernie Sanders (I-VT) wants Iowa to recanvass the results that placed him neck-and-neck with Pete Buttigieg. The move comes just ahead of the second Democratic primary in New Hampshire on Tuesday evening. We'll keep an eye on these developments.
Senate Minority Leader Chuck Schumer (D-NY) is asking the inspector generals of every governmental agency to look into any retaliatory measures taken against any whistleblowers who have filed complaints about President Trump's conduct. The request follows Trump's aggressive decision to fire two of the key witnesses in the House's impeachment inquiry. We'll track how far this request goes.
Today's Rundown
11 a.m. ET: Trump will address governors at the White House
12:30 p.m. ET: Secretary of State Mike Pompeo will have lunch with Trump
3:30 p.m. ET: Trump will meet with Parkland families in the Oval Office
7 p.m. ET: The President will head to Manchester, New Hampshire and give a speech at the Southern New Hampshire University Arena
Yesterday's Most Read Story
Graham: DOJ 'Process' Set Up For Giuliani To Send Biden Dirt To Barr — Summer Concepcion
What we are reading
We're In A Golden Age Of White Collar Crime — Michael Hobbes
How Are You Supposed To Act When Your Husband Comes Home From War? — Rebekah Gleaves Sanderlin