Opinions, Context & Ideas from the TPM Editors

TPM

Editor's Blog
Today's Agenda: Fallout From First Public Impeachment Hearings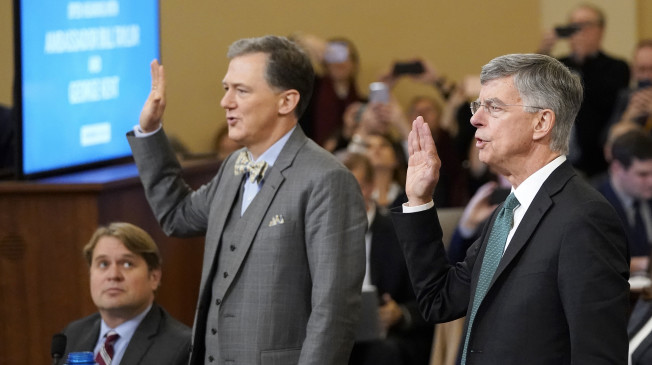 What The Investigations Team Is Watching
There are still a few remaining depositions that the House has yet to make public, and we'll be keeping our eyes peeled for those. Josh Kovensky has also been looking into the origins of the pressure campaign.
Just down the street from the Capitol, Roger Stone's trial wrapped up yesterday and there's a chance that the verdict drops today.
What The Breaking News Team Is Watching
Taylor dropped a piece of new information at the hearing: a call between Ambassador to the EU Gordon Sondland and President Donald Trump a day after the Trump-Zelensky call. During the conversation, which a Taylor staffer overheard, Trump expressed a keen interest in launching a sham investigation against the Bidens.
Trump has already disavowed the call, claiming ignorance of it. The staffer who was there, David Holmes, will now give a closed-door deposition on Friday. And experts say that the call, made on Sondland's end from Ukraine and over a cellphone, was likely monitored by Russian intelligence.
Also, Republicans are considering tinkering with the impeachment trial timeline to inconvenience the Democratic senators who are running for president.
Today's Rundown
2:00 PM E.T.: Trump will host NATO Secretary-General Jens Stoltenberg in the Oval Office.
7:00 PM E.T.: Trump will hold a campaign rally in Bossier City, Louisiana to try to boost the Republican challenger in the gubernatorial runoff there.
Yesterday's Most Read Story
In Impeachment Surprise, Taylor Unveils New Evidence Directly Implicating Trump — Matt Shuham
Reading List
After Heart Attack, Bernie Sanders Takes Long Walks and Eats Salads — Sydney Ember, New York Times
What Was It Like to Be Edited by Barack Obama? — Adam Frankel, Literary Hub
This Tom Hanks Story Will Help You Feel Less Bad — Taffy Brodesser-Ackner, New York Times