In it, but not of it.

TPM

DC
Pete Buttigieg Says He Topped $7M In First Quarter Of Presidential Campaign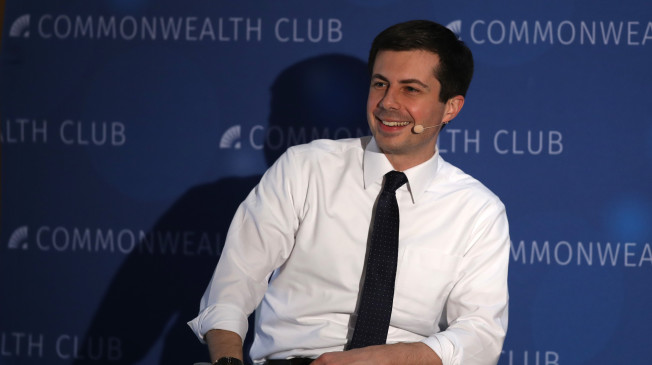 Buttigieg announced the haul on Twitter, saying his campaign is "out-performing expectations at every turn."
This is just a preliminary analysis, but our team's initial report shows we raised over $7 million dollars in Q1 of this year. We (you) are out-performing expectations at every turn. I'll have a more complete analysis later, but until then: a big thank you to all our supporters. pic.twitter.com/rDmTEiTfCs

— Pete Buttigieg (@PeteButtigieg) April 1, 2019
There's some truth in that argument. Buttigieg was barely known outside of Democratic insider circles when he jumped into the race in late January, and the small city mayor wasn't expected to make a significant mark in the race. But a series of successful speeches and town halls have vaulted him into the next tier of candidates. His background as a Navy veteran, a millennial and a married gay man, combined with a depth of knowledge and thoughtfulness in his speeches, has impressed voters and strategists alike.
Buttigieg has crept up past a pack of senators and governors who started out with higher national name identification in the race, and has been among the top six candidates running in a number of recent state and national polls in the crowded field.
The first fundraising quarter ended at midnight Sunday, a key early test of candidate strength — especially in the modern era since small-dollar fundraising now fuels most Democratic campaigns and is a good proxy measure for candidate momentum with the base.
Sen. Bernie Sanders (I-VT) and his fundraising juggernaut are likely to lead the way in the field — he appeared to be on pace to top $20 million for the quarter, based on the number of donors he's announced he's had and historical trends for the size of his donations.
Other candidates to keep an eye on are Sen. Kamala Harris (D-CA) and former Rep. Beto O'Rourke (D-TX), who announced huge first-day fundraising hauls, as well as others like Sens. Elizabeth Warren (D-MA), Amy Klobuchar (D-MN) and Cory Booker (D-NJ), who so far have been quiet about their fundraising and have struggled to some degree to break through in the race and currently are in the same neighborhood as Buttigieg in national polls. Others who have struggled even more to gain attention, like former Housing and Urban Development Secretary Julian Castro, Sen. Kirsten Gillibrand (D-NY) and Washington Gov. Jay Inslee (D) have even more to prove with their fundraising.
Buttigieg isn't yet a first-tier candidate. But he's broken from the pack — at least for now — and the fundraising numbers indicate he may have some staying power in the crowded field.