In it, but not of it.

TPM

DC
McConnell Wants To Squeeze Dems By Giving 'Green New Deal' A Senate Vote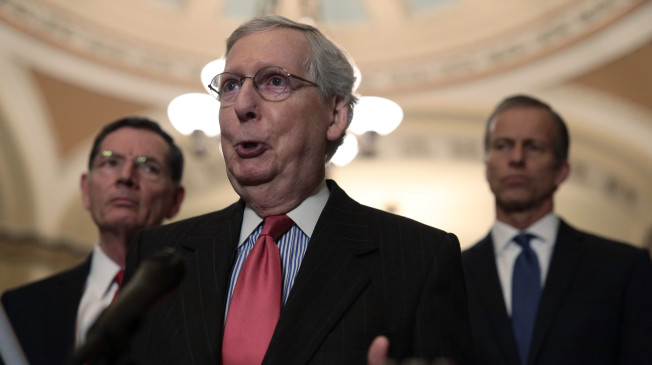 "It will give everybody an opportunity to go on record and see how they feel about the Green New Deal," McConnell said at a press conference on Capitol Hill, his mouth curling up into a smile.
The Green New Deal was spearheaded by one of the most well-known faces in the House's freshman class, Rep. Alexandria Ocasio-Cortez (D-NY). Several Democrats in the House and Senate have signed onto the deal, which aims to curb climate change while boosting the U.S. economy and creating jobs. Yet Democratic leaders like House Speaker Nancy Pelosi (D-CA) have not been particularly enthusiastic about the plan.
Sen. Ed Markey (D-MA) is the lead sponsor of the bill in the Senate, and he was joined by a handful of co-sponsors. A vote on the bill will force more Democrats to go on record on the deal, even though the legislation has no real chance of becoming law.
A vote will shine a spotlight on the Democratic party's 2020 hopefuls. All of the senators who have announced their bids or expressed a clear interest in running in 2020 have already signed on co-sponsors: Sens. Kirsten Gillibrand (D-NY), Kamala Harris (D-CA), Cory Booker (D-NJ), Elizabeth Warren (D-MA), Amy Klobuchar (D-MN, and Sen. Bernie Sanders (I-VT). Yet some potential candidates like Sen. Sherrod Brown (D-OH) have yet to weigh in on the proposal.