In it, but not of it.

TPM

DC
Joaquin Castro Won't Run For Senate In Texas, Boosting Hegar Against Cornyn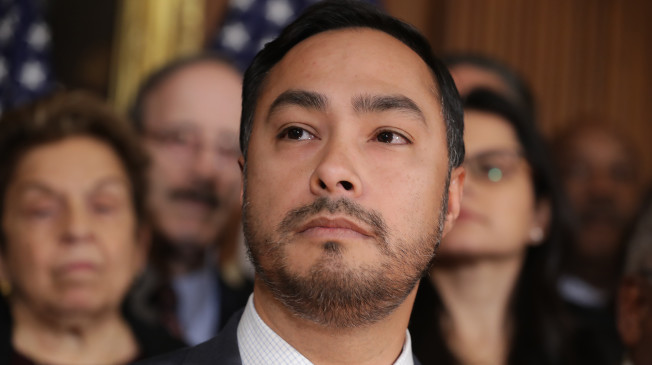 "Right now, I'm going to focus on my work in the House of Representatives. I've been doing what I feel is important and meaningful work here," he told the San Antonio Express-News. "If and when I run for another office, it is likely to be something that takes me back home to Texas."
The announcement came after an awkward moment where Castro told a reporter in an off-record conversation that he wasn't going to run while that reporter was on a conference call with Cornyn and forgot to mute their line. Everyone heard — including Cornyn, who joked about it during the call.
Castro had been strongly signaling that he planned to run in recent weeks and months. But former House candidate M.J. Hegar's decision to jump in the race, and strong signals from the deep-pocketed EMILY's List that she'd have their support in the race, had national Democrats worried about a potentially contested primary. Hegar's upset 2018 bid against Rep. John Carter (R-TX) fell short but gained her a national audience after a viral ad where she discussed her time as an Air Force combat veteran.
Cornyn is relatively popular back in Texas, and has proven to be a tough campaigner in years past. But Democrats are hopeful that the state's fast-changing demographics and suburban voters' fury at President Trump could put the state in play both at the presidential and Senate levels two years after then-Rep. Beto O'Rourke (D-TX) came within a few points of defeating Sen. Ted Cruz (R-TX).
It's unclear how much the contested primary played a role in Castro's decision-making, but it likely was a factor. He's the latest prominent Democrat to pass on a Senate run, along with former Georgia gubernatorial candidate Stacey Abrams (D) and Rep. Cindy Axne (D-IA). But this case is more like that in Arizona, where Democrats convinced Rep. Ruben Gallego (D-AZ) not to run after former NASA commander Mark Kelly (D) jumped into the race against Sen. Martha McSally (R-AZ). Castro is playing a top advisory role on his twin brother Julian's presidential run as well.